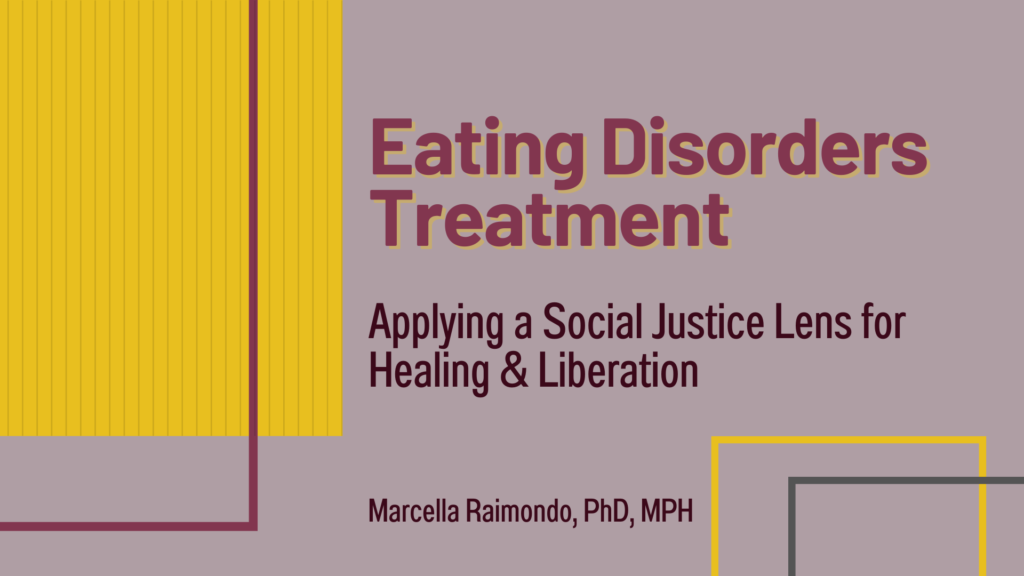 New dates for this one-hour online training!
The need to incorporate social justice perspectives and practices in our understandings of and approach to eating disorders treatment is irrefutable.
Eating disorders are not taken seriously in marginalized people and often,their eating disorders are often overlooked. Marginalized people seeking professional help may find eating disorders services ineffective to provide the interventions and treatment for their intersecting identities. When eating disorders occur in marginalized people, the medical and psychological aspects are even more complex due to oppression, isolation, and stigmatization.
Most eating disorders services are constructed for cisgender, heterosexual, affluent, thin, able bodied women and cannot offer appropriate services for a more diverse client population.
Many people with eating disorders are BIPOC, transgender or non-binary, poor, fat, disabled, neurodivergent, or some combination of the above. Our current treatment models, however, are informed by stereotypes and systems of oppression, only perpetuating harm done to already marginalized communities. Eating Disorders treatment programs, advocates and clinicians must work together to ensure all individuals with eating disorders, regardless of identity, can access safe and intersectional treatment options.
This overview workshop offers practical interventions through a social justice lens in clinical practice.
From a place of openness and self-reflexivity, we will examine our own privileges and power, as well as the systems and structures of power in place that perpetuate oppression, in order to ensure eating disorders treatment equity, especially for marginalized populations.
Participants will:
Develop a clear understanding of the ways in which these research and practice gaps show up and how they impact patients
Identify the need for holistic, social justice informed conceptualizations of eating disorders treatment
Translate awareness into action in your understandings of and approaches to eating disorders treatment
Marcella came to speak to my first-year graduate counseling psychology students about how to use a social justice lens in the treatment of eating disorders. She was vibrant, kind, and incredibly knowledgeable. Our group appreciated the depth of her professional experience and knowledge, as well as how receptive she was to student questions. She packed a lot of useful, actionable guidance into a short presentation, and brought additional information for the students to review independently. As a professor and clinician, guest lectures don't always deepen my own professional knowledge, but the assessment questions Marcella provided will allow me to deepen my practice and provide better support to the clients I serve. Marcella is a gift and any organization would be lucky to have her speak.
MacKenzie Stuart, LMFT, Part-Time Faculty, The Wright Institute Counseling Psychology Program
Marcella provides an impactful perspective on how behavioral health providers can more effectively work with clients who are engaging in disordered eating behaviors. In a very clear, comprehensive way, she lays out how to do this work using a social justice lens that really transforms traditional treatment models and paves the way for a more holistic, client centered approach.
Joana Garcia, LMFT – Senior Clinical Director at Pacific Clinics
Dates Offered- 2023 dates
This training is being offered three times in the month of September to increase scheduling accessibility. Please indicate which session you plan to attend in the registration form below.
Wednesday September 20
10:30 – 11:30 am PST
Friday September 22
9:00 – 10:00 am PST
Wednesday September 27
10:30 -11:30 am PST
---
---